Are jolly rancher gummies vegan? Today, we will discuss if Jolly Rancher Gummies are vegan. Many people assume that Jolly Rancher gummies must contain animal ingredients, since they are so delicious and juicy. Let's find out!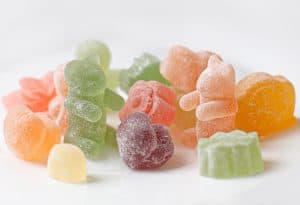 Are Jolly Rancher Gummies Vegan?
No, not really. If we're talking about Jolly Ranchers sweets, there are quite a few that come to mind – Jolly Rancher hard candy, lollipops, jelly beans, and even bites, chews, and gummies. Usually candy is made from sugar which comes from sugarcane. So one would think it's vegan-friendly?
Although Jolly Rancher Company's labels don't say that their products are vegan, the owner has said that they cannot determine if the natural flavor ingredient supplied by a third party is vegan or not.
Ingredients Of Jolly Rancher
Jelly Beans
Though it contains processed sugar, natural and artificial flavors, and artificial colors (Blue 1, Yellow 5, Yellow 6, Red 40), Jolly Rancher's classic food products are still vegan-friendly. Jelly Beans in particular make no claims of being vegan.
Jolly Rancher jelly beans are vegan because they do not contain any animal-based products like confectioner's glaze or gelatin. However, some vegans avoid eating them because of the possibility that 3rd party ingredients used in the manufacturing process could be non-vegan.
Lollipops
This candy contains processed sugar, artificial flavors, and mineral oil. It also includes lecithin, a controversial ingredient that has been known to cause health problems in some people.
Some vegans enjoy Jolly Rancher hard candies and lollipops, even though these products don't have vegan labels. It all comes down to individual preference.
Hard Candies
Jolly Rancher hard candies contains artificial sugar, natural and artificial flavors, mineral oil, and artificial colors (Blue 1, Yellow 5, Yellow 6, Red 40). Even though Jolly Ranchers don't have any labels stating that their products are vegan-friendly. Some vegans still consume these products because of Jolly Rancher's claim to be vegan.
Soft Candies
Most Jolly Rancher soft candies contain corn syrup, sugar, enriched wheat flour, gelatin, natural and artificial flavorings lecithin salt as well as artificial colors and potassium sorbate.
Vegans cannot eat Jolly Rancher gummies, fruit chews, and gummy sweets because they contain gelatin and dairy milk. The only two that are classified as vegan are Jolly Rancher Misfits and Jolly Rancher bites.
What Makes Jolly Rancher Gummies Non-vegan?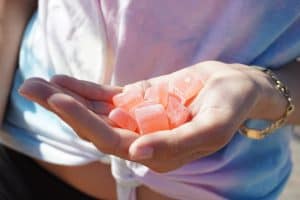 Among the non-vegan ingredients in Jolly Ranchers are sugar and gelatin. Sugar is often processed using bone char from refined cane sugar, which violates vegan practices. Gelatin is made by boiling animal skin, making it another non-vegan ingredient.
Jolly Ranchers Vegan Alternatives
Airheads
If you're looking for an alternative to Jolly Ranchers that still has that sticky, chewy texture, then these are the candies for you. They use Ugar instead of gelatin and come in a variety of flavors like blue raspberry and apple. And if you have dietary restrictions, no worries! These candies are gluten-free, allergen-tested, and kosher certified – perfect for vegans or those with other allergies.
Dum Dums
Jolly Rancher lollipops are vegan-friendly and made from quality ingredients, such as malic acid. They are also allergen-tested safe and Kosher certified products.
Goorganic Hard Candies
These hard candies are not only vegan, but also allergen- and GMO-free. They're also healthy, containing only natural ingredients and no artificial flavorings. With so many dietary restrictions these days, it's refreshing to find a treat that everyone can enjoy!
Final Thoughts on Are Jolly Rancher Gummies Vegan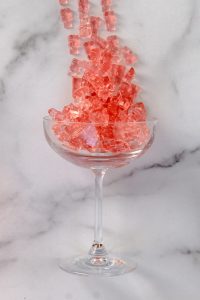 Jolly Rancher candies, jolly rancher chews, jolly rancher hard candies, and jelly beans are all vegan-friendly. However, their gummies, fruit chews, and gummy sweets contain gelatin or dairy milk, which makes them off limits to vegans. Luckily, there are plenty of other options available for those who enjoy the sticky texture and fruity flavors of Jolly Ranchers. Whether you're looking for an alternative to Jolly Ranchers or simply enjoy these candies, there's sure to be a vegan-friendly option out there that you can enjoy.​
If you're looking for a vegan-friendly candy that has the same chewy texture and fruity flavors as Jolly Rancher gummies, there are plenty of options to choose from. Airheads, Dum Dums, and Goorganics all make vegan hard candies and gummies that you can enjoy guilt-free. Whether you're a strict vegan or simply trying to avoid gelatin or dairy milk, there are plenty of tasty candy options out there for you!​