In this article, we will discuss 10 easy ways to incorporate more leafy greens into your diet and reap the rewards of their nutritional goodness. Are you looking to improve your overall health and add more nutrient-rich foods to your diet? One simple and effective way to achieve this is by incorporating more leafy greens into your meals.
Leafy greens, such as kale, spinach, and mustard greens, are packed with essential vitamins, minerals, and antioxidants that provide numerous health benefits. In this article, we will discuss 10 easy ways to incorporate more leafy greens into your diet and reap the rewards of their nutritional goodness.
Incorporate More Leafy Greens Into Your Diet with These 10 Easy Ways
1. Start your day with a green smoothie
One of the easiest ways to add more leafy greens to your diet is by starting your day with a green smoothie. Blend a handful of spinach or kale with your favorite fruits, a splash of vegetable juice, and some water or almond milk. This delicious and nutritious green smoothie will give you a boost of energy and provide a great start to your day.
2. Make a colorful salad with dark leafy greens
Dark leafy greens like kale, spinach, collard greens, and Swiss chard are not only rich in nutrients, but they also add vibrant colors to your salad. Combine them with other vegetables, such as colorful bell peppers, cherry tomatoes, and sliced cucumber, for a visually appealing and nutritious meal. Drizzle some olive oil and lemon juice as a light dressing to enhance the flavors.
3. Explore different varieties of greens
Don't limit yourself to just one type of leafy green. Expand your palate by experimenting with different varieties like bok choy, mustard greens, beet greens, and dandelion greens. Each of these greens has its own unique flavor profile and nutritional benefits, so don't be afraid to try something new and exciting.
4. Add greens to your sandwiches and wraps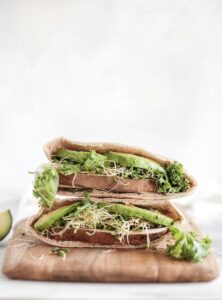 Instead of using regular lettuce in your sandwiches and wraps, opt for leafy greens such as butter lettuce or Swiss chard. These greens not only provide a crunchy texture but also offer a nutritional punch. Spread some basil pesto or avocado on your bread or wrap, and then layer on the greens along with your favorite protein source for a delicious and nutritious meal.
5. Create crispy kale chips
If you're looking for a healthy alternative to potato chips, try making your own kale chips. Simply toss kale leaves with olive oil, sprinkle some nutritional yeast, and bake them in the oven until they turn crispy. These crunchy and flavorful kale chips make a satisfying snack and are a great way to incorporate more leafy greens into your diet.
6. Steam your greens
Steaming leafy greens like spinach or collard greens is a quick and easy cooking method that helps retain their nutrients and vibrant green color. Simply place the greens in a steamer basket or a metal colander over boiling water and cook for a few minutes until they become tender. Drizzle some lemon juice and a dash of olive oil for added flavor.
7. Sip on green juices
Green juices are an excellent way to add more leafy greens to your diet, especially if you're not a fan of eating them raw. Consider purchasing a juicer or visit your local juice bar to enjoy a refreshing green juice made from a combination of spinach, kale, cucumber, celery, and lemon. These juices are not only hydrating but also provide a concentrated dose of vitamins and minerals.
8. Prepare a stir-fry with a mix of greens
Stir-frying is a versatile cooking method that works well with leafy greens. Create a vibrant and nutritious stir-fry by sautéing a mix of greens like bok choy, mustard greens, and turnip greens with garlic, ginger, and a drizzle of olive oil. Add tofu, chicken, or your choice of protein, along with some soy sauce or a splash of vegetable broth for a flavorful dish.
9. Jazz up your pasta dishes
Enhance the nutritional value of your pasta dishes by tossing in some fresh greens at the end of cooking. Add a handful of spinach, Swiss chard, or even beet greens to your pasta sauce or stir them into a warm pasta salad. The heat from the pasta will wilt the greens slightly, creating a perfect blend of flavors and textures.
10. Use greens in your cooking as a substitute
Think beyond just salads and side dishes. Consider using leafy greens as a substitute for other ingredients in your favorite recipes. For instance, you can replace tortillas with Swiss chard leaves for healthier wraps or blend greens like spinach or kale into your pasta sauce or soup for an extra nutritional boost.
Incorporating more leafy greens into your diet doesn't have to be complicated or boring. With these 10 easy ways, you can add a variety of greens to your meals, boosting your nutrient intake and improving your overall health. Whether you choose to start your day with a green smoothie, make colorful salads, or experiment with different types of greens, your body will thank you for incorporating more leafy greens into your diet. So, make a conscious effort to add these bright green powerhouses to your meals and enjoy the benefits of a healthier lifestyle.