Are you looking for delicious vegetarian Thanksgiving recipes to serve at your holiday table? From roasted sweet potatoes and butternut squash soup to Brussels sprouts with maple syrup, these 10 vegetarian Thanksgiving recipe ideas are sure to be a hit! Whether you're having a small dinner or hosting a full-fledged feast, these simple yet flavorful dishes will add color and life to your Thanksgiving table.
11 Vegetarian Thanksgiving Recipe Ideas
1. Roasted Sweet Potatoes: Sweet potatoes are a classic side dish for any holiday gathering, but they can easily be made vegetarian-friendly with a few simple substitutions. To make this delicious recipe vegan, you'll want to use plant-based milk instead of dairy milk when preparing the mashed sweet potatoes. You can also replace the butter with vegan margarine, and season with a blend of herbs and spices to give it an extra kick.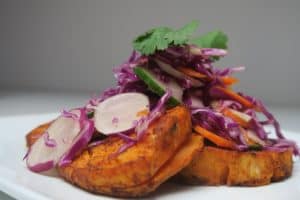 2. Butternut Squash Soup: This delicious soup is perfect for cold winter days, and makes a great first course for a vegetarian Thanksgiving dinner. Start by roasting cubes of butternut squash in the oven until tender. Transfer them to a blender and puree with vegetable broth or almond milk for a creamy texture. Finish off with a drizzle of olive oil, herbs, and roasted pumpkin seeds for some extra crunch.
3. Roasted Brussels Sprouts with Creamed Spinach: These crisp and delicious veggies are always welcome at a holiday gathering. To make this recipe vegetarian-friendly, you'll want to replace the butter with olive oil and omit the bacon. Instead of bacon, try adding in some maple syrup for sweetness, as well as roasted garlic cloves for an extra layer of flavor.
4. Garlic Mashed Potatoes: Mashed potatoes are a classic Thanksgiving side, and this vegan version is sure to please even the pickiest eaters. Start by boiling potatoes in salted water until tender, then mash with a potato masher or blend with a handheld blender. Add in minced garlic, vegan margarine, vegetable broth and your favorite herbs for extra flavor. You and your family will surely enjoy this roasted vegetables.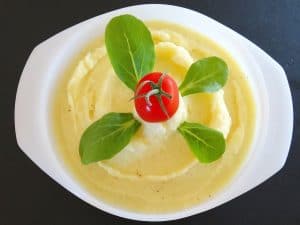 5. Maple Roasted Acorn Squash: This bright and delicious squash dish is sure to be a hit at any Thanksgiving gathering. Cut an acorn squash in half, then season with olive oil, salt, pepper, and a blend of herbs. Bake in the oven for about 45 minutes until tender, then top with maple syrup and toasted pecans for extra crunch.
6. Vegetarian Stuffing: Stuffing is a classic Thanksgiving side dish, and this vegetarian version uses mushrooms instead of meat. Start by sautéing onion, celery, and mushrooms with garlic and herbs in a skillet. Add in prepared stuffing mix, vegetable broth, and seasonings to taste. Bake in the oven until golden brown and crispy.
7. Green Bean Casserole: This delicious side dish is always a crowd pleaser, and can easily be made vegetarian-friendly by substituting vegan cream of mushroom soup for the regular version. Start by sautéing fresh green beans in olive oil until tender before adding them to the casserole dish. Top with fried onions or shallots for extra flavor.
8. Quinoa Pilaf: This tasty dish is packed with protein and is sure to be a hit at your Thanksgiving table. Start by cooking quinoa according to package instructions, then sauté onion, garlic, and mushrooms in olive oil until golden brown. Add the cooked quinoa, vegetable broth and seasonings to the pan and simmer until heated through.
9. Roasted Beets and Carrots: This easy side dish is both flavorful and colorful, making it a great addition to your Thanksgiving spread. Start by tossing beets and carrots with olive oil, salt, pepper, and herbs before roasting in the oven for about 30 minutes. Serve hot, or enjoy at room temperature.
10. Pumpkin Pie: No Thanksgiving feast is complete without a delicious slice of pumpkin pie! To make this traditional dessert vegan-friendly, substitute vegan cream cheese for the regular version goat cheese and use almond milk instead of dairy milk when preparing the filling. Top your pie with vegan whipped cream or cranberry sauce and a sprinkle of cinnamon.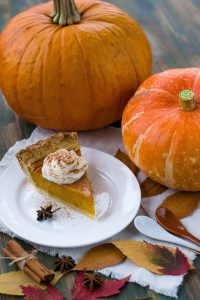 11. Sweet Potato Casserole: This classic side dish is a Thanksgiving essential, and can easily be made vegan. Start by roasting sweet potatoes until tender before mashing them with vegan margarine, almond milk or coconut cream, cinnamon, nutmeg, and brown sugar. Top with toasted pecans or walnuts for an extra crunchy topping.
These best vegetarian thanksgiving recipes are sure to make your holiday meal both delicious and memorable. From creamy soups to festive pies, you'll have plenty of options for pleasing the whole family. With just a few simple swaps and substitutions, you can easily make these classic dishes vegetarian-friendly. Bon Appetit!
For extra inspiration, check out these delicious healthy vegan recipes:
8 Summer Recipes for Vegetarians