As the holiday season approaches, families and friends gather to celebrate the joy of togetherness and gratitude. For those who follow a vegetarian or vegan lifestyle, creating a Thanksgiving feast that is both delicious and in line with their dietary choices can be an exciting challenge. This year, embrace the flavors of the season with 11 exquisite vegetarian Thanksgiving recipes that will not only satisfy your taste buds but also leave you feeling grateful for the wonderful world of plant-based cuisine.
1. Roasted Butternut Squash and Sage Soup
Kick off your vegetarian Thanksgiving feast with a warm and comforting appetizer that will leave your guests craving for more. Our Roasted Butternut Squash and Sage Soup combines the rich sweetness of butternut squash with the earthy aroma of sage, creating a harmonious symphony of flavors that embody the essence of fall. This velvety soup is easy to prepare and can be made in just a matter of minutes. The roasted butternut squash adds a subtle sweetness, while the fragrant sage lends a touch of elegance to this star-worthy starter.
2. Stuffed Portobello Mushrooms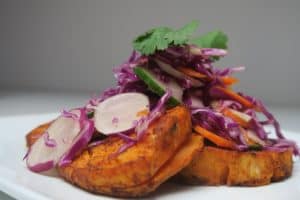 Elevate your main course with these Stuffed Portobello Mushrooms that are a true testament to the versatility of vegetarian cooking. Our chef-inspired recipe involves generously filling large portobello mushrooms with a delectable mixture of quinoa, vegetables, and a combination of vegan gruyère and cheese alternatives. The result is a hearty, meaty texture that even the most devout carnivores at your table will love. The umami-rich flavors of the mushrooms, combined with the nuttiness of the gruyère and the satisfying combo of quinoa and veggies, will make this dish a Thanksgiving dinner star.
3. Lentil and Walnut Loaf
Bid farewell to the traditional meatloaf and welcome the Lentil and Walnut Loaf to your Thanksgiving table. Packed with plant-based protein and a medley of aromatic spices, this loaf is a wholesome alternative that doesn't compromise on taste. The marriage of lentils and walnuts not only adds a delightful texture but also infuses the dish with a hearty, nutty flavor that will win over both vegetarians and meat lovers alike. Each slice of this savory masterpiece is a love letter to comfort food, making it a wonderful centerpiece for your holiday spread.
4. Vegan Wellington
Impress your guests with a culinary masterpiece that's as stunning to look at as it is to taste. The Vegan Wellington takes center stage, wrapped in layers of flaky puff pastry and filled with a tantalizing mix of sautéed mushrooms, spinach, and a luxurious vegan cream cheese. This visually striking creation isn't just for show; the blend of flavors and textures creates a harmonious symphony of indulgence that will leave your loved ones in awe. Perfect for making a memorable Thanksgiving dinner, this Vegan Wellington is a work of art that brings people together.
5. Cranberry Pecan Salad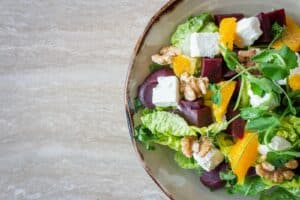 Every Thanksgiving feast needs a refreshing side dish that balances the richness of the main course. Our Cranberry Pecan Salad does just that, combining the vibrant tartness of fresh cranberries with the satisfying crunch of toasted pecans. Mixed greens provide the perfect backdrop, and a zesty dressing ties it all together in a burst of flavor. This salad is more than just a dish; it's a celebration of textures, colors, and tastes that will add a refreshing element to your spread.
6. Roasted Brussels Sprouts with Balsamic Glaze
Upgrade your vegetable side dish game with our Roasted Brussels Sprouts with Balsamic Glaze. This easy-to-make dish showcases the transformative power of roasting, turning humble Brussels sprouts into caramelized bites of perfection. A drizzle of balsamic glaze adds a tangy-sweet finish, elevating the flavors to new heights. Whether you're a longtime fan of Brussels sprouts or a newcomer to their culinary charm, this dish is a surefire way to win hearts around the table.
7. Mashed Cauliflower with Garlic and Chives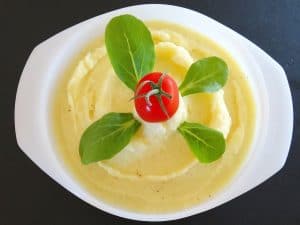 No Thanksgiving feast is complete without a cozy and comforting mashed dish. This year, swap out traditional mashed potatoes for our Mashed Cauliflower with Garlic and Chives. Creamy, dreamy, and utterly delicious, this dish provides a healthier alternative while still delivering on the comforting flavors you love. The nutty undertones of cauliflower, combined with the pungent notes of garlic and the freshness of chives, make this mash a standout side that will keep your guests coming back for seconds.
8. Sweet Potato Casserole with Pecan Streusel
Indulge your sweet tooth without compromising your vegetarian Thanksgiving with our Sweet Potato Casserole with Pecan Streusel. This crowd-pleasing dish takes the natural sweetness of sweet potatoes and elevates it with layers of flavor and texture. A crunchy pecan streusel topping adds a delightful contrast to the creamy sweet potato base, creating a harmonious balance that's sure to delight both young and old. This casserole isn't just a side dish; it's a nostalgic journey through the flavors of the season.
9. Vegan Gravy
No Thanksgiving dinner is complete without the rich, savory goodness of gravy. Our Vegan Gravy recipe puts a plant-based twist on this essential condiment, utilizing vegetable broth and a carefully selected blend of herbs to recreate the depth of flavor that meat-based gravies are known for. Whether you pour it over your lentil loaf, mashed cauliflower, or roasted vegetables, this vegan gravy will elevate your dishes and add that final touch of perfection to your Thanksgiving spread.
10. Cornbread Stuffing with Herbs and Dried Fruit
Stuffing is a Thanksgiving tradition that deserves a vegetarian twist. Enter our Cornbread Stuffing with Herbs and Dried Fruit, a sensational dish that marries the heartiness of cornbread with the fragrant bouquet of herbs and the sweetness of dried fruits. Each bite is a harmonious combination of textures and flavors, creating a symphony of tastes that will make this stuffing a star in its own right. Whether you're enjoying it as a side dish or digging in for seconds, this stuffing is a testament to the culinary artistry of a well-crafted vegetarian Thanksgiving.
11. Pumpkin Pie with Coconut Whipped Cream
End your vegetarian Thanksgiving feast on a sweet note with a classic Pumpkin Pie, reinvented with a twist. This dairy-free delight features a flaky crust that cradles a luscious pumpkin filling infused with warm spices. Top it all off with a dollop of homemade coconut whipped cream for a touch of indulgence that will leave you and your guests swooning. With every forkful of this Pumpkin Pie, you'll savor the love and inspiration that went into creating a dessert that captures the essence of the holiday season.
Elevating the Feast with Vibrant Vegetarian Thanksgiving Salads
Salads have come a long way from being mere side dishes; they now take center stage as vibrant and nutritious creations that add a burst of color and flavor to your vegetarian Thanksgiving spread. Incorporating seasonal ingredients like squash and mushrooms, these salads provide a delightful medley of textures and tastes that can rival any main course.
With expert prop styling, these salads are more than just a mix of greens; they're visually appealing masterpieces that deserve a spot on your holiday table. Imagine a Butternut Squash and Mushroom Gratin Salad, where roasted squash and sautéed mushrooms combine with a medley of greens, creating a harmonious fusion of flavors and textures. Pair it with a fine wine, and you have a showstopping dish that elevates your vegetarian Thanksgiving feast to a whole new level.
Bountiful Greens: Crafting Memorable Salads for a Vegetarian Thanksgiving
When it comes to vegetarian Thanksgiving, salads have the power to steal the spotlight. These bountiful greens offer a canvas for creativity, enabling you to craft memorable salads that appeal to the eyes and the palate alike. With the diverse ingredients available, you can create salads that go beyond the ordinary and embrace the extraordinary.
Picture a Weeknight Delight Salad featuring tender turkey-replacement slices, marinated in a wine-infused dressing, and paired with a variety of fresh greens. The result is a salad that's both satisfying and visually appealing, offering a burst of flavors and a touch of sophistication to your holiday gathering. Let your imagination run wild as you experiment with different ingredients, turning a simple salad into a culinary masterpiece that speaks volumes about your vegetarian Thanksgiving celebration.
A Harvest of Flavors: Unveiling Showstopping Vegetarian Thanksgiving Salad Creations
In the world of vegetarian Thanksgiving, salads are no longer an afterthought; they're a showcase of creativity and culinary innovation. As the autumn harvest brings an abundance of ingredients like squash, mushrooms, and other seasonal delights, it's time to unveil salad creations that steal the show and leave your guests craving more.
Imagine a rustic Mushroom and Squash Gratin Salad that captures the essence of the season. Roasted squash cubes, sautéed mushrooms, and layers of cheese alternatives come together to create a gratin-inspired delight that's both comforting and sophisticated. With a carefully chosen wine pairing, this salad becomes a symphony of flavors that sets the tone for a memorable vegetarian Thanksgiving feast. Let your culinary instincts guide you as you craft salads that celebrate the richness of autumn and the joy of a bountiful harvest.
Conclusion
As you gather around the Thanksgiving table with family and friends, these 11 vegetarian and vegan recipes will stand as a testament to the boundless creativity and flavor that plant-based cooking can offer. From the cozy comfort of roasted vegetables to the elegance of a vegan Wellington, each dish tells a story of culinary passion and a commitment to a compassionate way of life. This year, as you celebrate the holiday of gratitude, let these recipes be an inspiration for embracing the beauty of vegetarian Thanksgiving and the bountiful flavors that come with it.
For extra inspiration, check out these delicious healthy vegan recipes:
8 Summer Recipes for Vegetarians