How to eat out as a vegan? Eating out as a vegan can be tricky, but with a little planning, it can be easy to find vegan-friendly options at most restaurants. The first step is to call ahead and ask about the restaurant's vegan options. Many restaurants now have separate vegan menus, or can make modifications to existing dishes to make them vegan.
Once you're at the restaurant, take a look at the menu and see if there are any clearly vegan dishes. If not, don't be afraid to ask the waiter for help in finding something that will suit your needs.
And finally, don't forget to tip well! Servers are often more than happy to accommodate special dietary requests, but they may not always have the time or resources to do so. A good tip will show your appreciation for their efforts in making sure you enjoy your meal.
How to Eat Out as a Vegan: Tips
Along my vegan journey, I have had to learn how to analyze menus, get creative with my meals, and communicate my needs to the restaurant employees. Finally, here are my best tips for getting a delicious and filling meal as a vegan. This may seem like a lot of steps at first, but it will become second nature, I promise.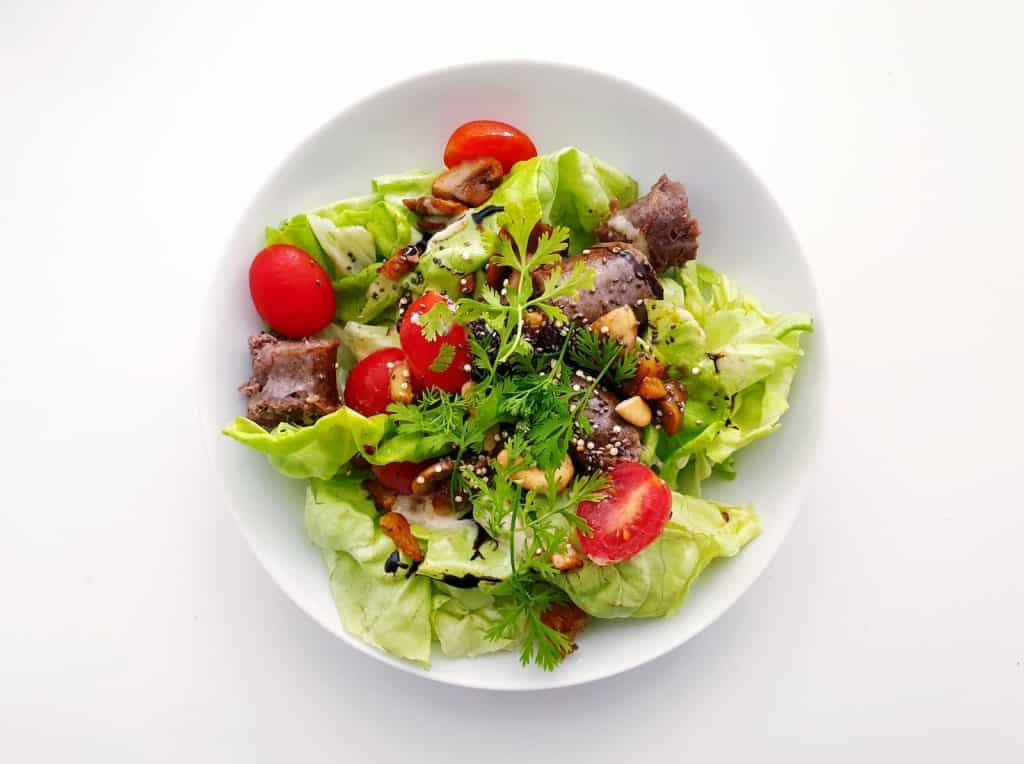 How To Eat Out As A Vegan: Look for a Separate Vegan Menu
If you want to eat vegan food at a restaurant, check their website or online menu first. If they don't have any vegan food, see if the vegetarian food can be modified. The restaurant might not have the vegan menu online, but they might have it at the restaurant.
Vegan Cuisines
American: Vegan and/or vegetarian burgers, like taco bell wraps, bites, patties without cheese or mayo, fries (vegetable & sweet potato fries), Impossible Burger with vegan cheese (vegan), Beyond Burger with vegan cheese (vegan), salad sans meat and cheese dressing (vinaigrette or balsamic) are all options for a healthy diet with vegan french toast sticks.
Look for fried foods fried in olive oil and avoid having egg or dairy in the breading, veggie burger patties often have eggs as a binder, and tater tots might also contain egg binders. Be careful with your order if you're avoiding these ingredients.
Brunch: We've seen vegan quinoa bowl, eggless avocado toast, oatmeal with plant-based milk, fruit and smoothies. Whole-grain cereal with plant milk is also delicious! Toast with jam, plain bagels or with sour cream.
Toast prepared with dairy products, oatmeal made with dairy milk, and milk used in smoothies should be avoided.
Chinese: A variety of vegan-friendly dishes are available, including veggie spring rolls, tempura, fried rice without egg (veggie or tofu), veggie noodle dishes, tofu dishes, and sesame balls. Dips, such as fish sauce and egg or dairy in the tempura batter, should be avoided.
Greek: Some good vegan food to eat at a barbecue are grilled vegetable kabobs, pita bread (if it's made without dairy), a Greek salad without feta cheese, hummus with veggies, and grilled vegetable gyros. Another option is baba ganoush. In salads, check for dairy ingredients like cheese.
Indian: Snares and hooks, chutneys and pickles: sambar, rasam, vegetable pakoras, dal pasta dishes in general Biryani with vegetables Masala dosa Chana masala Curry without dairy Rice Pudding Vegetable curries are not appropriate for vegan diets since they contain eggs. Look out for dairy in curries and soups, as well as naan prepared with milk.
Italian: Some Italian restaurants serve salads without cheese or croutons, vinaigrette dressings, bread and rolls with no butter or oil. -> Side salads without cheese or croutons, marinara sauce pastas, dairy-free pizzas with no cheese, should be veggie pizza.) Beware of dishes such as housemade pastas that contain egg, bread, or rolls made with egg or dairy. Some marinara sauces might be made with meat stock.
Japanese: I'm diabetic and I use limited ingredients from my pantry, such as miso soup as long as it isn't made with fish sauce, edamame, vegetable sushi roll, white rice, fried rice without egg. Take a look at the ingredients in the dishes you're eating. Dashi (blended meat stock), bonito fish flakes, oyster sauce, and egg or dairy used in the tempura batter are all examples of additives that should be avoided.
Eel sauce may sound unappetizing, but it is a delicious condiment for sushi lovers. It is made with sugar, soy sauce, and mirin–a type of rice wine. I personally love to drizzle eel sauce over my veggie sushi rolls.
Korean: vegetable fried rice without egg, white rice, kimchi and other pickled vegetables, vegetable ramen. Pay close attention to dishes that may have fish sauce or meat stock in them.
Mexican: veggie fajitas, veggie enchiladas without cheese, beans, Spanish rice, tortillas. Watch out for lard or dairy in the beans, chicken stock in the rice, lard in the tortillas, gelatin in margaritas
Seafood: Fries, vegetable sandwiches without meat, croutons, or cheese, a vinaigrette or balsamic dressing, salads sans meat and cheese. Vegetable sandwiches should be avoided. Fries that have been battered in egg or dairy may also contain rolls or bread with dairy ingredients.
Traveling by plane, bus, train, boat: pretzels, crackers, nuts. Take care when buying sweets that have been sweetened with a honey glaze; they might contain nuts.
Final Thoughts on How to Eat Out as a Vegan
When dining out as a vegan, it is important to be aware of the ingredients in your food and to ask questions about how dishes are prepared. It is also helpful to do some research beforehand on restaurants that offer vegan options or have separate menus for vegans. With careful consideration, you can enjoy delicious meals while sticking to your vegan diet needs and beliefs. Happy eating!