As the weather cools and the leaves begin to change, it's the perfect time to indulge in warm, filling, and savory autumn soups. These delicious fall soups will keep you cozy on crisp evenings, and the rich flavors of fall-inspired ingredients will have you eagerly anticipating dinnertime. Below, you'll find a wide variety of fall soup recipes that will make your autumn dining a true delight.
Autumn Soups: A Seasonal Delight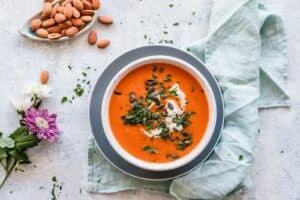 Autumn soups capture the essence of the season, bringing to your table the rich and earthy flavors of autumnal ingredients like sweet potato, pumpkin, and butternut squash. As the leaves change and the weather cools, these heartwarming soups provide a comforting taste of autumn's bounty. Whether you prefer creamy butternut squash soup or a hearty lentil stew, these recipes will delight everyone at your table.
Hearty Autumn Soup Ideas for Fall Evenings
1. Butternut Squash Soup
One of the classic autumn soups, butternut squash soup is a creamy and satisfying choice for any fall meal. Made from tender roasted butternut squash, this delicious soup can be made even more appealing with the addition of savory ingredients like bacon or sour cream. Other delicious variations include using curry powder for a flavorful twist or incorporating apple for a touch of sweetness.
2. Tomato Soup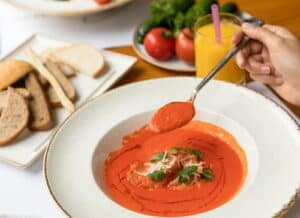 A classic dish that never goes out of style, tomato soup is perfect for enjoying on a chilly autumn day. Pair it with warm crusty bread, a melty grilled cheese sandwich, or a simple salad for a delightful meal. You can also experiment with different flavors and spices, like adding roasted red peppers or sun-dried tomatoes for a more complex taste.
3. Creamy Potato Soup
Creamy and hearty, potato soup is the ultimate comfort food for the fall season. With ingredients like sour cream, shredded cheese, and bacon, this warm and cozy soup can be customized to suit your taste buds. One variation to try is a cheesy potato soup with the addition of broccoli or cauliflower for added nutrients and textures.
4. French Onion Soup
Rich and flavorful, French onion soup is a classic fall dish that will make you feel as if you're dining in a quaint European cafe. Topped with melted Gruyère cheese and served with a warm, crusty bread, this is one of the autumn soups you won't want to miss.
Hearty Fall Soups that Feature Rice, Noodles, and Grains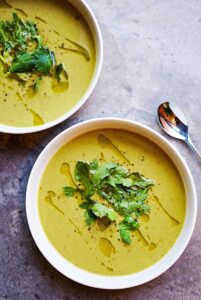 5. Chicken Noodle Soup
Nothing quite compares to the classic chicken noodle soup when you're craving a warm meal on a cool day. Use leftover rotisserie chicken, egg noodles, and your favorite vegetables to create a nourishing and hearty fall soup. To up the ante, try a chicken tortilla soup for a Mexican-inspired twist.
6. Taco Soup
Taco soup is a fun, filling, and flavorful option that will bring southwestern flair to your fall table. Using ingredients like ground beef, beans, corn, tomatoes, and taco seasoning, this hearty soup is perfect when served with sour cream, cheese, jalapenos, and tortilla chips.
7. Coconut Curry Rice Soup
For a burst of savory and sweet flavors, try a creamy coconut curry rice soup. Made with rich coconut milk, curry powder, and your choice of rice or grain, this soup will transport you to an exotic paradise while keeping you warm and snuggly during fall evenings.
8. Minestrone Soup
An Italian classic, minestrone soup is a fantastic way to bring a variety of vegetables and nutrients to your meal. With a base of tomato, chicken broth, beans, and pasta, this classic Italian dish can be customized with your favorite fall vegetables or even your choice of protein, like shredded chicken or Italian sausage.
Rich, creamy, and cheesy, broccoli cheddar soup is a true comfort food classic. To create this delicious fall soup, simply combine cooked and chopped broccoli with a creamy base made of butter, flour, milk, and sharp cheddar cheese. Some variations also include incorporating potatoes for a thicker, more filling soup.
10. Chicken and Wild Rice Soup
Another delicious and hearty fall soup recipe to try is a creamy chicken and wild rice soup. Made with shredded chicken, wild rice, and a creamy, rich base, this comforting dish is perfect to enjoy on chilly autumn nights.
Slow Cooker Favorites for Busy Days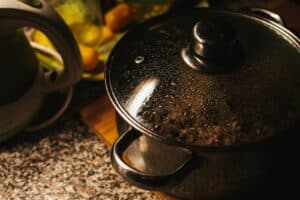 Many of these autumn soups can also be prepared in a slow cooker, making it easy to enjoy a warm, satisfying meal without spending hours in the kitchen. Simply combine your ingredients and let the slow cooker do the work, and you'll have a mouthwatering meal waiting for you when you need it.
Some classic fall soups like bean soup, vegetable soup, mushroom soup, and chicken noodle soup work beautifully in a slow cooker. Just be sure to adjust your cook times and any precooked ingredients like noodles or rice as necessary.
Creative Soup Recipes: Transforming Leftovers into Delicious Meals
Don't let leftovers go to waste! With creative soup recipes, you can turn yesterday's dinner into today's delight. Take that leftover roast chicken and transform it into a hearty chicken and wild rice soup in just a few easy steps. Utilize those extra vegetables and add them to a vegetable wild pasta soup for a nutritious twist. These leftover-friendly recipes not only save you time but also make the most of all the ingredients in your kitchen, ensuring that every cup of soup is bursting with flavor and taste.
Final Thoughts
Whether you're craving a cozy soup filled with noodles or a creamy fall soup packed with your favorite vegetables, these autumn soup recipes are sure to keep you satisfied throughout the season. With endless flavor options and the ease of slow-cooker options, it's no wonder that hearty fall soups are a beloved favorite during the cool autumn months. So grab your ladle, a warm bread bowl, and dive into these delicious fall soup recipes that will have you savoring every last spoonful.