As warm summer days turn into balmy evenings, nothing completes a meal better than a delicious and easy summer soup. With the abundance of fresh vegetables, herbs, and vibrant flavors, summer soup recipes offer refreshing and tasty options for everyone. In this comprehensive guide, we'll share with you a variety of delightful and nourishing summer soups, ranging from chilled to creamy, and from vegetable to chicken broth-based soups. So, let's dive into the world of summer soups and explore the possibilities!
The Importance of Seasonal Ingredients for Summer Soups
The key to creating the best summer soup lies in sourcing the freshest, seasonal produce. Summer is bountiful with garden fresh veggies like tomatoes, sweet corn, zucchini, green beans, and colorful peppers, which are perfect for creating a delightful summer soup recipe. Using these fresh garden vegetables not only enhances the flavors and nutrition in your soups but also supports local farmers and helps the environment by reducing transportation distances.
How to Make Easy Summer Soup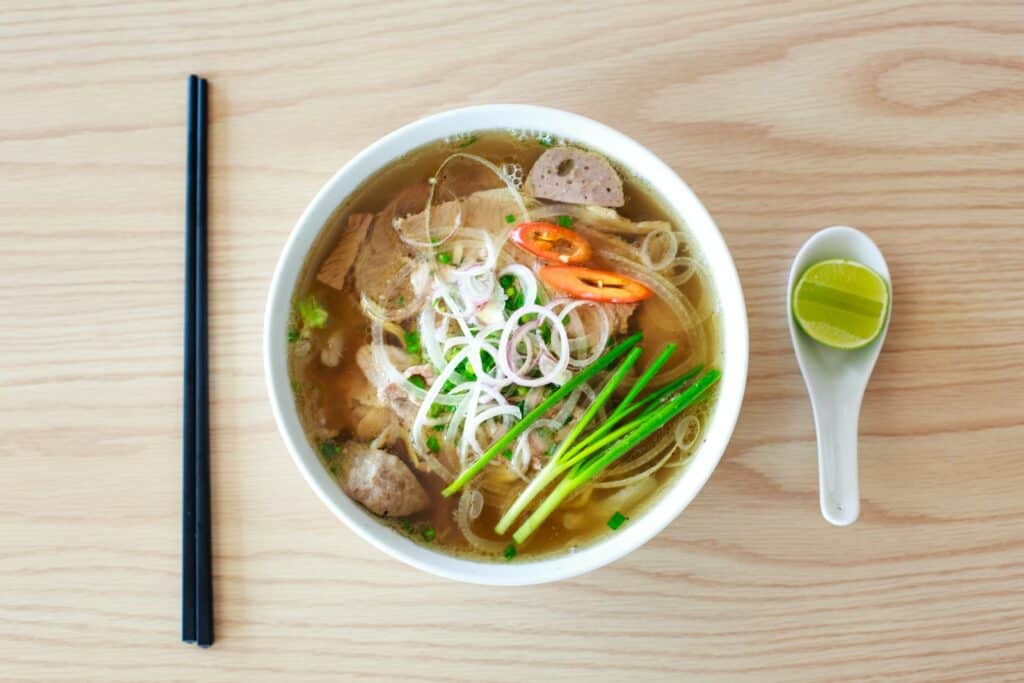 Before diving into specific recipes, let's understand how to create easy summer soup masterpieces that can effortlessly fit into your busy summer days.
1. Choosing the right seasonal ingredients: The first principle for easy summer soup recipes is choosing fruits, vegetables, and herbs that are locally or organically grown, as they are often more nutrient-rich and flavorful. When shopping for summer soup ingredients, prioritize fresh garden vegetables like summer squash, green onions, and tomatoes – these are your secret weapons for creating the best summer soup.
2. Building flavors: Summer soups are known for their depth and complexity of flavors, and the key is in using a combination of fresh herbs and spices along with high-quality chicken or vegetable broth. Fresh basil, dill, thyme, oregano, parsley, and cilantro work wonderfully in various summer soups.
3. Cooking techniques: Choosing the right cooking technique is crucial for preserving the nutritional value of your ingredients and enhancing the overall flavors of your easy summer soup. Steaming, sautéing, or roasting ingredients can help bring out their natural flavors while effectively tempering the intensity of stronger-tasting veggies like onions and garlic.
Recipes for Easy Summer Soups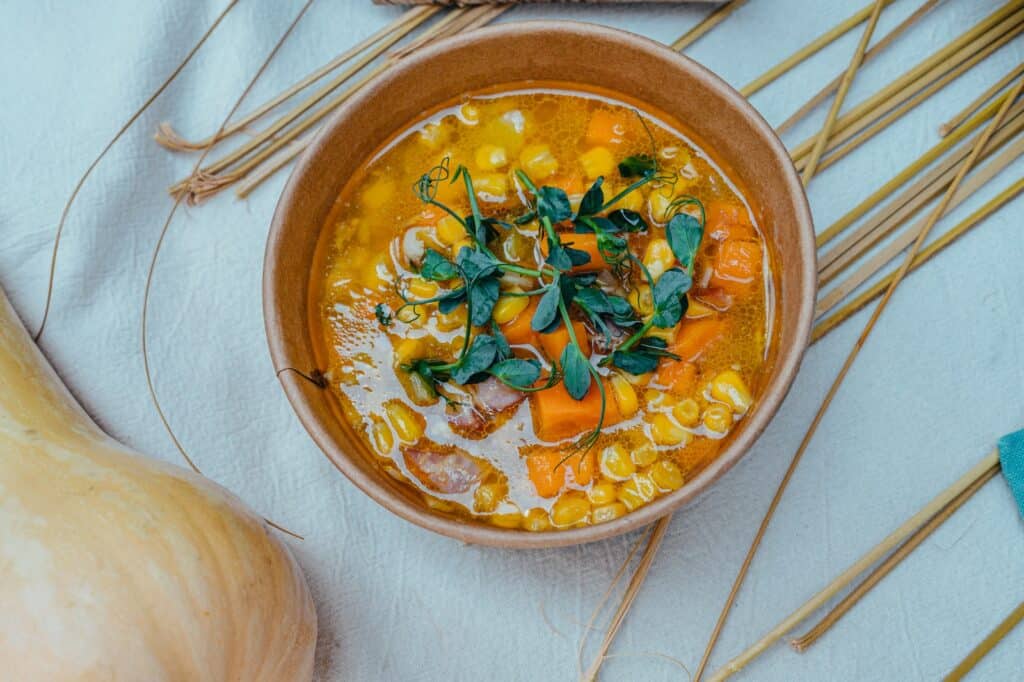 1. Watermelon Gazpacho: This innovative summer soup recipe is a delightful twist on the classic Andalusian gazpacho soup, combining watermelon with tomatoes, red peppers, orange juice, and a dash of olive oil. Once all the ingredients are blended, store the soup in the refrigerator for a couple of hours to ensure that it is served chilled. Watermelon gazpacho is perfect for hot summer days, with its light and refreshing consistency and zesty taste.
2. Asparagus Soup: Packed with vitamins, minerals, and antioxidants, asparagus is an ideal vegetable for delicious summer soup recipes. A creamy soup can be made by blending asparagus with chicken or vegetable broth, onions, garlic, potatoes, and either sour cream or Greek yogurt. The soup can be topped off with grated parmesan cheese, fresh chives, or even some crunchy asparagus tips for a satisfying meal.
3. Corn Chowder: Made with summer corn on the cob, potatoes, onions, celery, and bell peppers, corn chowder is a classic favorite. The creamy base can be made using sour cream or heavy cream combined with chicken or vegetable broth. Corn chowder is perfect served with a green salad and crusty bread for a complete summer meal.
4. Minestrone Soup: This Italian soup is a summer staple, packed with fresh garden veggies, pasta, and beans, creating a colorful, flavorful, and hearty dish. Summer minestrone can include zucchini, tomatoes, green beans, white beans, and small pasta like ditalini or elbow macaroni, all simmered in a flavorful vegetable or chicken broth. For an added twist, try adding a dollop of homemade pesto or a sprinkle of grated parmesan cheese on top before serving.
5. Zucchini Soup: For a light and creamy soup, zucchini is an excellent summer produce staple. A zucchini soup can be made using chicken or vegetable broth as a base, along with onions, garlic, and fresh herbs like basil or thyme. This easy summer soup can be served chilled or warmed up, depending on your preference.
6. Cucumber and Avocado Soup: For a cooling, chilled soup perfect for hot summer nights, cucumber and avocado soup is an excellent choice. Bright and refreshing, this simple summer soup recipe combines cucumbers, avocados, Greek yogurt or sour cream, fresh dill, and a touch of olive oil to create a luxuriously creamy yet light dish.
Slow Cooker and Instant Pot Summer Soup Recipes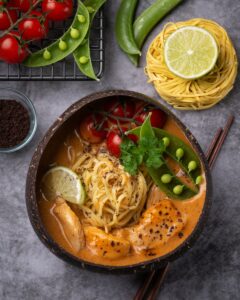 If you're seeking easy dinner recipes, utilizing a slow cooker or instant pot for summer soups is a great way to have a delicious, healthy meal waiting for you after a long day of fun in the sun. Here are some summer soup recipes that can be made using a slow cooker or an instant pot:
1. Potato Leek Soup: This hearty soup, made with potatoes, leeks, chicken or vegetable broth, and a touch of freshly ground pepper, can be thickened with cream or coconut milk for a velvety texture. As a bonus, this delicious soup is gluten-free, making it suitable for various dietary restrictions.
2. Summer Chicken Noodle Soup: For a lighter alternative to classic chicken noodle soup, try adding summer favorites like corn, tomatoes, and zucchini to your recipe. An Instant Pot or slow cooker can make the process simple and convenient by simmering chicken, broth, and chopped vegetables together while you focus on enjoying your summer day.
Tomato Soup Variations
If you thought tomato soup was a one-dimensional dish, think again! Beyond the classic tomato soup, there's a world of delightful variations waiting to be discovered. These recipes not only cater to your taste buds but also come with healthy twists. Whether you're scouring your fridge for leftovers or planning your meal plan, these tomato soup recipes offer a flavorful solution.
From a hearty tomato and lentil soup to a creamy tomato basil soup, you'll find options that are good for both your taste buds and your health. Don't forget to pair them with a glass of your favorite wine for an exquisite dining experience. Best of all, many of these recipes are ready in just minutes, making them perfect for a quick lunch or dinner. So, get ready to savor the diversity of tomato soup recipes!
Creative Twists on Asparagus Soup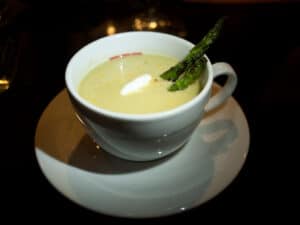 Asparagus soup is a delightful addition to any meal plan, providing both flavor and nutrition. But did you know you can take this classic soup to new heights with creative twists? Explore innovative recipes that incorporate fresh asparagus in unexpected ways. From asparagus gazpacho to asparagus and goat cheese soup, these recipes not only offer a burst of cold and refreshing flavors but also serve as excellent cold drinks on a hot day.
Asparagus is known for its health benefits, making these recipes a good choice for those looking to add more nutritious food to their diet. Plus, they're quick to prepare, taking just a few minutes to whip up a satisfying and food-good meal.
Tips for Serving Easy Summer Soups
1. Pair summer soups with other light dishes like salads or sandwiches for a well-rounded and nutritious meal that doesn't leave you feeling heavy.
2. Enhance the flavors and presentation of your summer soup with a variety of garnishes and toppings, such as fresh herbs, roasted nuts, croutons, or a drizzle of olive oil.
3. Serve your summer soups in attractive bowls or cups for sit-down dinners, or take them on the go in portable containers for picnics and outdoor gatherings.
Watermelon Gazpacho Recipe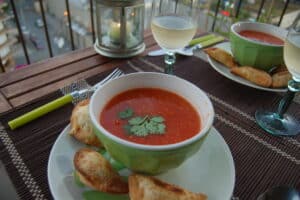 Servings: 4
Ingredients:
4 cups seedless watermelon, diced
2 large ripe tomatoes, diced
1 cucumber, peeled, seeded, and diced
1 red bell pepper, seeded and diced
1/4 red onion, finely chopped
2 cloves garlic, minced
1/4 cup fresh cilantro, chopped
1/4 cup fresh mint leaves, chopped
3 tablespoons red wine vinegar
2 tablespoons extra-virgin olive oil
Salt and black pepper, to taste
1/2 teaspoon cayenne pepper (optional, for a hint of heat)
Crumbled feta cheese (for garnish, optional)
Instructions:
Start by preparing all your ingredients. Dice the watermelon, tomatoes, cucumber, red bell pepper, and finely chop the red onion. Mince the garlic, and chop the fresh cilantro and mint leaves. Set aside a small amount of herbs for garnish if desired.
In a large bowl, combine the diced watermelon, tomatoes, cucumber, red bell pepper, and red onion.
Add the minced garlic to the mixture.
In a separate small bowl, whisk together the red wine vinegar and extra-virgin olive oil. Pour this dressing over the watermelon and vegetable mixture.
Season the gazpacho with salt, black pepper, and cayenne pepper if you prefer a bit of heat. Stir everything together gently to combine.
Using an immersion blender or a regular blender, puree the mixture until it reaches your desired consistency. Some people like their gazpacho completely smooth, while others prefer it slightly chunky.
Taste the gazpacho and adjust the seasoning if needed. You can add more vinegar, salt, or pepper to suit your taste.
Cover the bowl with plastic wrap or a lid and refrigerate the gazpacho for at least 2 hours before serving. Chilling allows the flavors to meld together and makes it wonderfully refreshing.
When ready to serve, ladle the chilled watermelon gazpacho into bowls or glasses.
Garnish with the reserved fresh cilantro, mint leaves, and crumbled feta cheese if desired.
Serve your watermelon gazpacho as a starter, a light lunch, or a refreshing appetizer at your next summer gathering. Enjoy!
This Watermelon Gazpacho is not only incredibly tasty but also a perfect way to cool down on a hot summer day. It's a healthy, colorful, and refreshing addition to your summer menu.
Conclusion
With the various options and flavors presented in these easy summer soup recipes, there is no reason not to explore the delicious world of summer soups. Whether you prefer chilled soups like watermelon gazpacho or cucumber avocado soup or gravitate towards hearty soups like minestrone or corn chowder, using seasonal ingredients and fresh herbs while incorporating the right cooking techniques will elevate your summer soup experience. Enjoy these delightful and nourishing summer soups, and have a refreshing, delicious, and healthy summer!
Other suggested articles: