As a fan of warm, comforting soups, I'm excited to share my carrot soup recipe that'll make your taste buds dance with delight. This easy-to-make carrot soup boasts a mix of sweet carrots, creamy texture, and a hint of spice that is sure to impress. And the best part? It can be tailored to your preferences, whether you crave a creamy carrot soup with coconut milk or a punchy carrot ginger soup.
To start, you'll need a trusty soup pot, olive oil, chopped carrots, diced onion, vegetable or chicken broth, and your choice of herbs or spices. I recommend roasting the carrots first, as roasted carrots intensify the soup's flavor profile. Additionally, you can choose between a creamy carrot soup recipe that uses coconut milk, heavy cream, or sour cream, and a simple carrot ginger soup recipe that includes fresh ginger for a spicy kick.
There's no denying the versatility of this wholesome and nutritious soup. You can experiment with the option of using an immersion blender or a food processor for a velvety texture, and even freeze the carrot soup for later enjoyment. So, whether you choose a classic carrot soup recipe, a creamy alternative, or an invigorating carrot ginger creation, you're in for a delicious treat. Give it a try and don't forget to adjust the salt, pepper, and spices to satisfy your palate.
Carrots and Nutrition: A Healthful Blend
When savoring a bowl of delectable carrot soup, it's not just your taste buds that benefit. Carrots are packed with essential nutrients, making this soup not only delicious but also highly nutritious. These vibrant orange vegetables are renowned for their rich beta-carotene content, which your body converts into vitamin A, promoting good vision and overall eye health. Moreover, carrots provide dietary fiber, aiding digestion, and antioxidants that help combat harmful free radicals. So, as you indulge in the diverse flavors of carrot soup, you're also nourishing your body with a wholesome dose of vitamins and minerals.
Discovering the Perfect Carrot Soup Recipe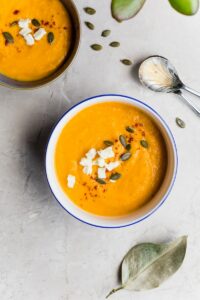 Finding the perfect carrot soup recipe can be quite a challenge, especially when there are so many delicious variations to choose from. I've tried numerous recipes, and I'm here to share my favorites, along with tips on making your carrot soup stand out.
One of my go-to recipes is a creamy carrot soup that uses a blend of tender, cooked carrots with a touch of cream for a silky smooth texture. Start by sautéing onions in olive oil until they're soft. Next, add sliced carrots, chicken broth, or vegetable broth and bring to a gentle simmer. Once the carrots are tender, you can use an immersion blender or food processor to blend the soup to a velvety consistency. You can then add some heavy cream or coconut milk to achieve the desired creaminess.
For a truly divine carrot ginger soup recipe, simply add grated fresh ginger along with the carrots when cooking. The ginger adds a fantastic zip to the soothing creaminess of the soup, making it a standout among carrot soup recipes.
If you enjoy roasted flavors, I recommend trying creamy roasted carrot soup. Start by roasting whole carrots, coated in olive oil and seasoned with salt and pepper, until tender and slightly caramelized. Follow the steps for the creamy carrot soup recipe, but use roasted carrots instead of boiled ones. The rich, roasted flavor takes the soup to a whole new level.
For those who love a hint of spice, another excellent variation is a curried carrot soup. In this easy carrot soup recipe, simply add curry powder while sautéing the onions, before adding the carrots and broth. The curry powder adds a warm, exotic depth of flavor to the dish.
Here are a few more ingredient ideas to mix and match, making your carrot soup unique:
Sour cream, for a tangy twist
Sweet potato, for an even creamier texture
Apple cider vinegar or fresh lemon juice, for a bright kick
Fresh garlic, for added depth and aroma
Ground coriander, cayenne pepper, or black pepper, for a dash of heat
Don't forget to season your soup correctly – tasting and adjusting salt and pepper levels as needed – this can make your carrot soup go from good to great.
What's your favorite carrot soup variation? Whether you prefer a simple carrot soup or an elaborate fusion of flavors, there's a recipe out there to suit your preferences. So go ahead, experiment with the options, and find your perfect carrot soup. Happy cooking!
Choosing the Right Ingredients
When it comes to creating a carrot soup recipe, selecting the right ingredients makes all the difference. For a perfect mix of flavors, I'll guide you through the essentials, their alternatives, and their function in the recipe.
Carrots: Obviously, the star ingredient of carrot soup. For the sweetest flavor, opt for fresh, in-season carrots. You could also try sweet potato as a substitute.
Broth: Chicken broth or vegetable broth can be used as the base for your carrot soup. The vegetable broth will keep the dish vegetarian, while chicken broth can add depth to the flavors.
Ginger: Fresh ginger is the key to a delightful carrot ginger soup recipe. The spicy, fragrant addition balances the sweetness of the carrots.
Olive oil or coconut oil: Both bring unique flavors to the recipe and are responsible for sautéing your ingredients.
Cream: Heavy cream or coconut milk both work as dairy options to create that deliciously creamy carrot soup texture. Go for light cream if you prefer a less dense option.
Here are a few more components that can elevate your carrot soup recipe:
Spices: Curry powder, cayenne pepper, and ground coriander can give your carrot soup a warming and flavorful twist.
Aromatics: Diced onion, fresh garlic, and fresh lemon juice contribute to the rich flavor profile of your creamy carrot soup recipe. You can use a Dutch oven or large soup pot to sauté the aromatics with the carrots before adding the broth.
Roasted carrots: For a creamy roasted carrot soup, try oven-roasting your carrots on a baking sheet with olive oil before adding them to the soup. Roasting adds depth and creates a smooth blend when coupled with an immersion blender or food processor.
Moreover, consider these optional ingredients to customize your soup:
Garnishes: Carrot greens, fresh herbs, or a dollop of sour cream can add an attractive finish to your dish.
Sweeteners: Brown sugar or apple cider vinegar can balance the flavors of your easy carrot soup recipe.
Lastly, when preparing your soup, use medium heat to gently simmer, stirring occasionally to achieve your desired consistency.
Keep in mind that some ingredients should be added with care—adjust salt and pepper to taste. When blending hot soup, be cautious with hot liquids in the food processor or blender. If unsure, let the soup cool down before blending.
Now that you have a better understanding of the key ingredients for an absolutely delicious carrot soup, it's time to dive into the rest of the recipe. Happy cooking!
Roasting vs. Boiling: A Flavorful Debate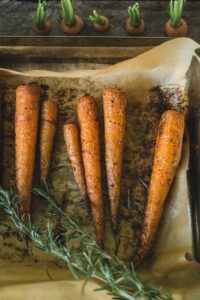 When it comes to creating the perfect carrot soup recipe, one major point of discussion is whether to roast or boil the carrots. As an avid cook, I've tested numerous carrot soup recipes and have found that both methods offer unique flavors and textures. Let's delve a bit deeper into the benefits of each method.
Roasting your carrots is a fantastic way to create a rich, complex flavor that highlights the natural sweetness of the carrots. I particularly enjoy a creamy roasted carrot soup that gets its richness from a combination of olive oil, coconut milk, and sour cream. By slow-roasting the carrots at a temperature of 400°F for 30-45 minutes, their natural sugars caramelize and create a deep, sweet taste that pairs excellently with a blend of warm spices like curry powder, cumin, and paprika.
On the other hand, boiling the carrots in a mixture of chicken or vegetable broth can create a lighter, fresher-tasting soup. This method is perfect for those who prefer a more subtle carrot flavor. I find that an easy carrot soup made with boiled carrots often pairs well with tangy elements such as lemon juice or apple cider vinegar, and aromatic herbs like fresh ginger and cilantro.
For an extra touch of creaminess, try incorporating ingredients like coconut milk, sour cream, or heavy cream after boiling the carrots. This not only adds a richer mouthfeel but also helps to enhance the natural sweetness of the carrots. Alternatively, an immersion blender can be used to thoroughly blend the cooked carrots and create a smooth, velvety texture.
No matter which method you choose for your carrot soup recipe, it's important to consider the specific flavors and textures you want to achieve. Roasting offers a more robust, sweet flavor while boiling provides a lighter, fresher taste. Additionally, ingredients like coconut milk, sour cream, and fresh ginger play a crucial role in augmenting the final flavor and texture of your soup.
A few key points to consider:
Roasting brings out the natural sweetness in carrots while boiling offers a lighter, fresher flavor
Experiment with adding creamy elements like coconut milk, sour cream, or heavy cream
Use an immersion blender or food processor to create a velvety texture
Pair your soup with tangy and aromatic elements, such as lemon juice, apple cider vinegar, and fresh ginger
Veggie Stock vs. Chicken Stock: What's the Difference?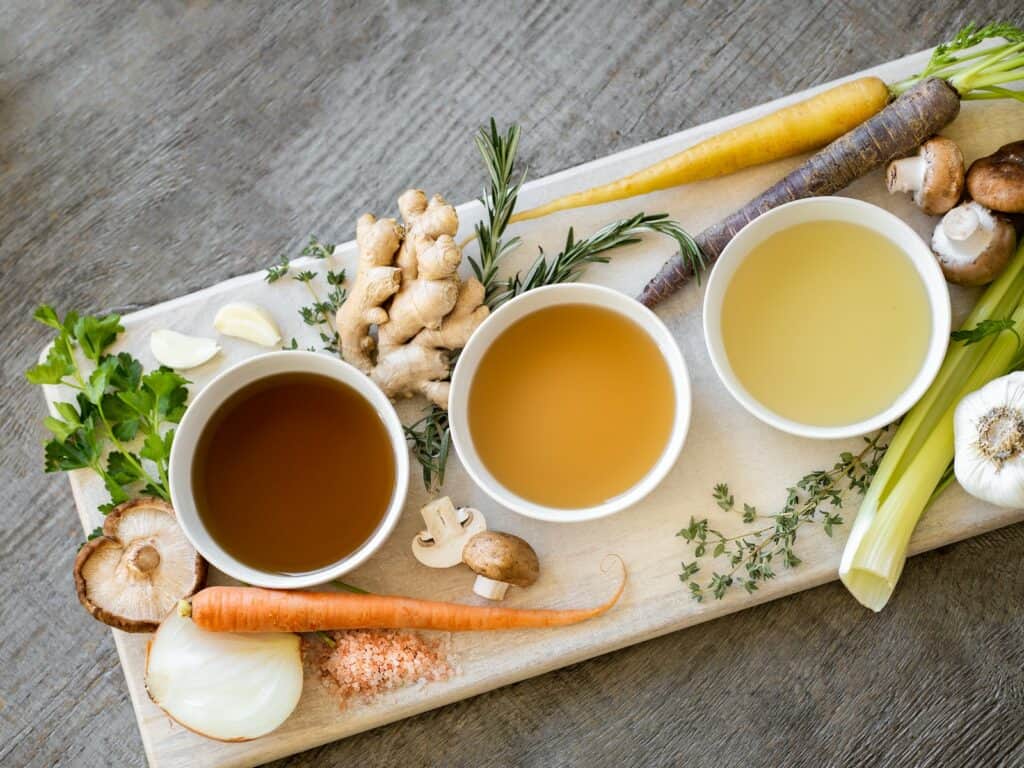 When making a scrumptious carrot soup recipe, it's essential to consider the right type of broth to use. The two most common types of broth used in a creamy carrot soup are vegetable broth and chicken broth. Let's discuss the differences between these broths and how they impact your carrot soup.
First things first, we have vegetable broth. It's composed of various vegetables, herbs, and spices simmered in water. Some classic ingredients include:
Carrots
Onions
Celery
Garlic
Thyme
Bay leaves
Using vegetable broth in your carrot soup recipe can yield a lighter and fresher taste. Plus, it keeps your soup 100% vegetarian or vegan, depending on the other ingredients you choose. For example, olive oil and coconut milk can replace sour cream or heavy cream. A flavorful carrot ginger soup recipe would pair exceptionally well with vegetable broth.
On the other hand, we have chicken broth, made from the simmering of chicken bones and meat, combined with vegetables, herbs, and spices. The result is a versatile and savory liquid that is hearty and rich in taste. It can add depth and enhance the flavors of your creamy carrot soup recipe.
So which one should you choose for your carrot soup? It'll ultimately depend on your personal preferences and dietary restrictions. If you're vegetarian or vegan, then opting for a vegetable broth is the way to go. However, if you're looking to venture into new flavor profiles, try experimenting with chicken broth.
When creating carrot soup, the broth isn't the only essential ingredient. Be sure to include the following components:
Roasted carrots
Olive oil
Diced onion
Fresh ginger
Salt and pepper
By using chicken or vegetable stock, you can make various carrot soup variations to suit your taste buds – from creamy roasted carrot soup to a simple carrot soup and even an easy carrot soup recipe spiced up with curry powder.
Different Carrot Soup Variations to Try
As a versatile dish, there are many different ways to enjoy a carrot soup recipe. In this section, I'll explore a variety of carrot soup preparations and ingredients that can be combined to create unique flavors and textures.
Some people prefer creamy carrot soup. A fantastic way to achieve this is by adding dairy, like heavy cream or sour cream, or non-dairy alternatives like coconut milk. Adjusting the base of your soup can also bring out different flavors. For example, while chicken broth provides a richer taste, vegetable broth gives a lighter, vegan-friendly option. Another alternative for the liquid base is olive oil.
Incorporating additional ingredients into an easy carrot soup can deliver a more unique dish. Adding sweet potato, spices like curry powder and ground coriander, or herbs such as fresh ginger, can give the soup a different character. A popular variation of carrot soup is the carrot ginger soup. To make a carrot ginger soup recipe, you can add fresh ginger and other spices like cayenne pepper.
Roasted carrot soup is another variation worth trying. For an easy carrot soup recipe, roast carrots alongside diced onion and garlic until they are tender and caramelized. Add these roasted vegetables to the soup base and blend to create a smooth, rich consistency. In order to blend your roasted carrot soup, an immersion blender or food processor is a practical tool.
Another soup recipe worth mentioning is the creamy roasted carrot soup. This dish typically has a richer flavor and a smoother texture, which can be achieved by adding dairy or non-dairy cream options like heavy cream or coconut milk. Lemon juice or apple cider vinegar can also be added for brightness and acidity in the final dish.
To create the best carrot soup recipe for your tastes, don't hesitate to experiment with different:
Liquid bases, e.g., chicken broth, vegetable broth, or olive oil
Creamy additives, e.g., heavy cream, coconut milk, or sour cream
Spices and herbs, e.g., curry powder, cayenne pepper, fresh ginger, or ground coriander
Additional ingredients, e.g., sweet potato, roasted veggies, or lemon juice
By exploring these options, you can create a carrot soup that's absolutely delicious and tailored to your preferences. Happy cooking!
Easy Step-by-Step Carrot Soup Recipe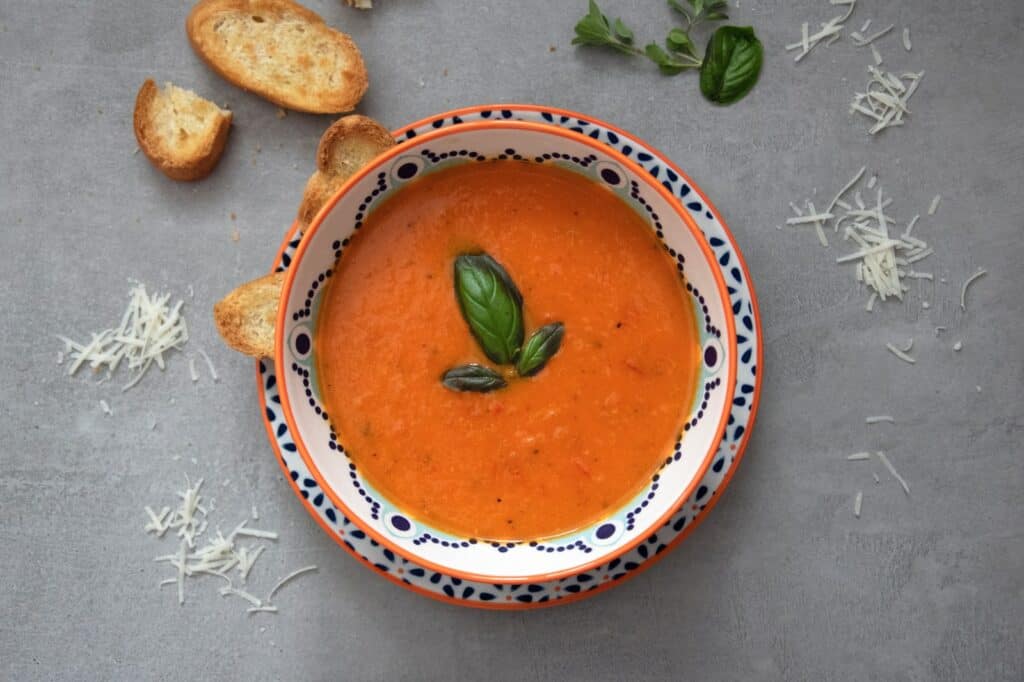 I'm about to share my easy carrot soup recipe that'll turn those sweet carrots into a creamy, comforting bowl of goodness. This carrot soup includes simple ingredients and is perfect for any soup cuisine. Trust me, you'll want to make carrot soup today after reading these simple steps.
Begin by roasting the carrots for a deeper, sweeter flavor. Place your sliced carrots on a baking sheet, drizzle with olive oil, and roast in the oven until fork-tender.
In a large pot or Dutch oven, heat some extra virgin olive oil over medium heat and sauté diced onion until soft and translucent. Add fresh garlic, salt, and black pepper, and cook for a few more minutes, stirring occasionally.
Pour your choice of chicken broth or vegetable broth into the pot, followed by the roasted carrots. Adjust the salt and pepper to taste as needed. Bring this mixture to a gentle simmer and cook until the carrots are tender.
Time to make this soup even more delightful. With an immersion blender or food processor, carefully blend the hot soup until smooth and creamy. Alternatively, you can use a high-powered blender or stand blender, just be cautious when blending hot liquids.
Let's give your soup a little spice. Add a touch of curry powder, fresh ginger, and fresh lemon juice, which is optional but highly recommended. Stir the soup well, adding brown sugar if desired.
Add your choice of coconut milk, heavy cream, or light cream to the soup for that creamy consistency. For a dairy-free option, use coconut milk or simply add more vegetable stock.
Finally, adjust the seasoning with salt and pepper as needed. If you prefer a thinner soup, add more broth until you reach the desired consistency.
Some optional ingredients for a twist on the classic carrot soup include sweet potato, apple cider vinegar, and cayenne pepper. For a thick and satisfying alternative, try making a carrot ginger soup by following this same recipe, but blend in freshly grated ginger before adding the cream.
Serving Suggestions and Garnishes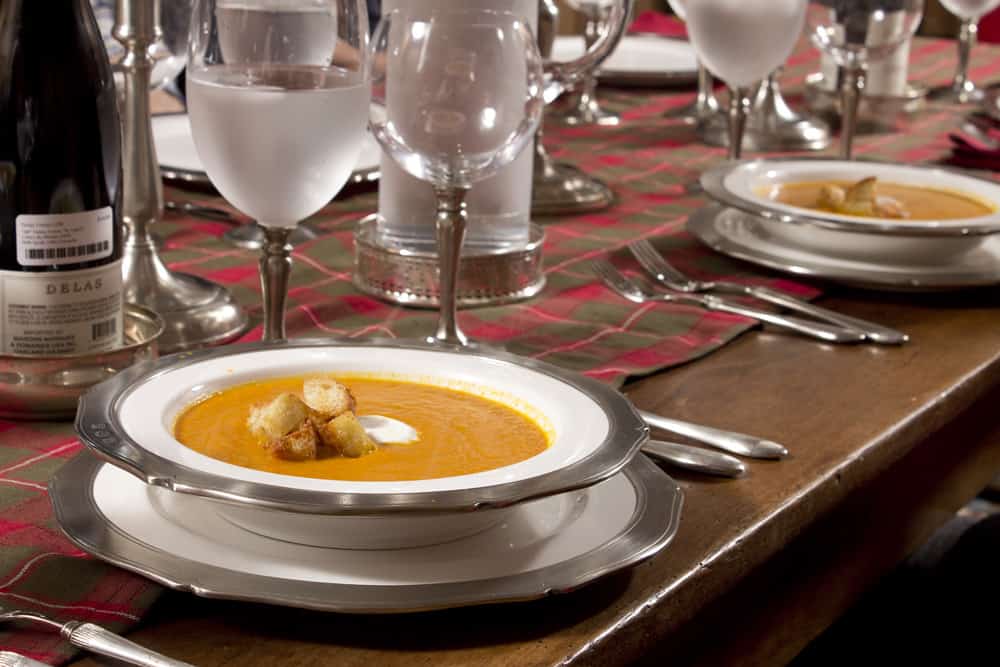 After trying my carrot soup recipe, I discovered that the secret to elevating your carrot soup to the next level lies in serving suggestions and garnishes. You may choose to stick with the classic creamy carrot soup or venture out to try a carrot ginger soup recipe. The choice is yours, and the possibilities are endless!
One popular variation of the carrot soup recipe involves using high-quality chicken broth or vegetable broth to add depth to the soup's flavor. You could also try sautéing the vegetables in olive oil or using coconut milk for a nondairy twist on the creamy carrot soup recipe.
Some enticing garnishes for your carrot soup include:
A dollop of sour cream or crème fraîche for added creaminess
A drizzle of extra virgin olive oil or a splash of fresh lemon juice for brightness
A sprinkle of curry powder for a hint of spice and warmth
Ginger (as seen in a popular carrot ginger soup recipe) provides a subtle zing and pairs wonderfully with the natural sweetness of carrots
If you're looking for an easy carrot soup recipe that can be made in a cinch, consider roasting your vegetables beforehand. It will significantly simplify the process. Roasting the carrots enhances their sweetness and adds a delightful caramelized flavor to the soup. A top choice among many carrot soup enthusiasts is the creamy roasted carrot soup.
When it comes to utensils, blending is crucial for a smooth consistency. An immersion blender helps achieve the desired texture without transferring piping hot soup to another container. Alternatively, a food processor or regular blender can work. Just be cautious when handling hot liquids.
Aside from the versatility in garnishes, you can easily make carrot soup to suit various dietary preferences. For instance, you can make it vegan by substituting chicken broth with vegetable broth and swapping out dairy ingredients for plant-based options, such as coconut milk or almond milk.
Storing Leftover Soup: Tips and Tricks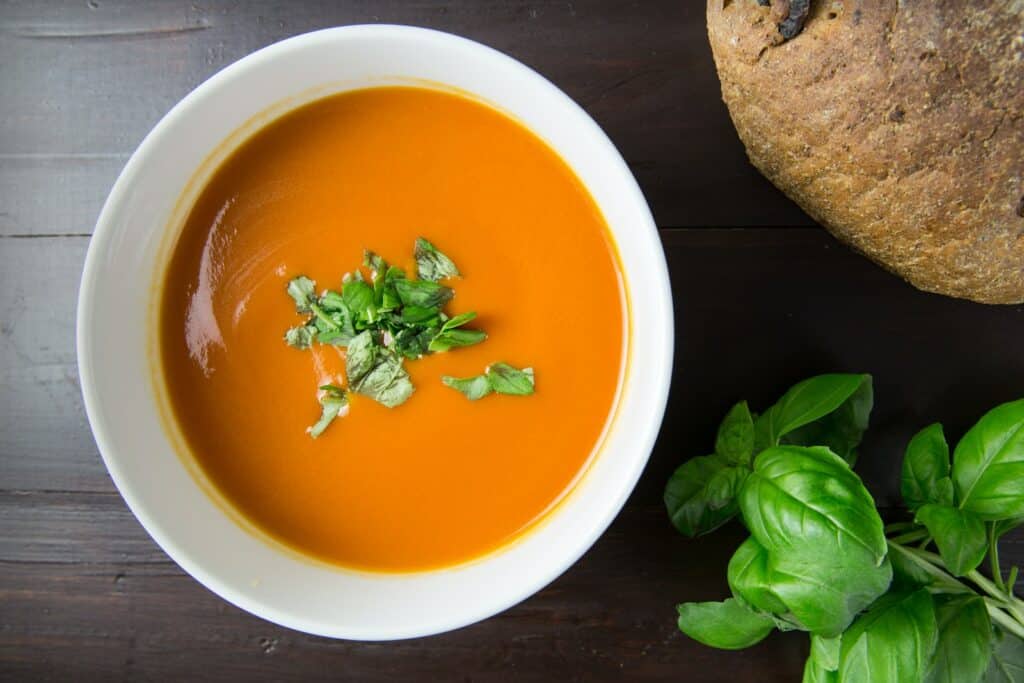 After savoring a delicious bowl of carrot soup, chances are there might be some leftovers. In this section, I'll share some handy tips and tricks to make the most out of your leftover carrot soup.
First, it's important to cool the leftover carrot soup before storing it. Make sure it reaches room temperature. It's also crucial to transfer the cooled soup into an airtight container. There are a few great options to consider for storage:
Glass containers with airtight lids
BPA-free plastic containers
Another pro tip for storing carrot soup is to divide it into smaller portions. It not only allows you to easily reheat single servings, but also helps to conserve storage space. Now, let's talk about the two main storage methods:
Refrigerating: If you know you'll be indulging in some more carrot soup in the next 3 to 4 days, place the airtight containers in the fridge.
Freezing: For longer storage periods (up to 3 months), freezing is the way to go. However, prior to freezer storage, remember to leave some room in the container for the soup to expand as it freezes.
When it comes to reheating the carrot soup, be it from the fridge or the freezer, there are a few things to bear in mind:
For frozen carrot soup, it's ideal to thaw it in the fridge overnight before reheating.
Microwave or stovetop can be used for reheating. Reheat over medium heat on the stove, or use short bursts in the microwave.
Stir occasionally to ensure even heating.
If the soup seems too thick after reheating, you can add in a touch of chicken broth, vegetable broth, or water to reach your desired consistency.
Don't forget to taste the soup before serving, as you may need to adjust salt and pepper levels to perfection.
Creating Your Signature Carrot Soup
Transforming a basic carrot soup recipe just got a whole lot easier. The options are endless, from a simple carrot soup to a flavorful carrot ginger soup. Bring out the unique taste of this nutritious vegetable with a variety of ingredients.
Combining the right ingredients for a velvety, creamy carrot soup is essential. For a richer taste, use ingredients like chicken or vegetable broth, olive oil, coconut milk, or sour cream as a base. For an invigorating twist, try a carrot ginger soup recipe or a creamy roasted carrot soup.
To make carrot soup with roasted carrots, a key ingredient is curry powder. Roast the carrots with this spice to release an absolutely delicious aroma. Blend the soup to a smooth, creamy texture using an immersion blender. For added tanginess, add a touch of apple cider vinegar or fresh lemon juice.
Another variation to consider is adding new ingredients, such as sweet potato or fresh ginger. This can enhance the flavor of the soup, providing a more complex taste.
Easy carrot soup recipe ideas:

Simple carrot soup with savory herbs.
Carrot ginger soup with fresh lemon juice.
Creamy roasted carrot soup with sour cream and chives.
In addition to these variations, you can experiment with different garnishes to make your carrot soup truly stand out. A dash of cayenne pepper, a sprinkle of fresh carrot greens, or a dollop of heavy cream can elevate your dish to new heights.
Finally, thank you for sharing your time and passion for soup cuisine. Now, armed with this knowledge and inspiration, you can create the best carrot soup recipe that suits your taste buds. It's time to dive into the kitchen and create your own signature carrot soup. Happy cooking!
Other suggested articles: